Lexmark's
digital transformation journey
In mid-2018, the Enterprise Architecture (EA) team at Lexmark started their mission to transform into an outcome-driven EA organization to support the wider Lexmark vision to adapt an as-a-service business model. Today, they have a living, breathing Enterprise Digital Twin (EDT) that empowers them to harness disruptive technologies' transformative potential and support their business in closing the loop between new business insights and transformed business processes.
The EDT is instrumental in empowering the enterprise architects at Lexmark to align business processes and technology. This means that they're enabled to troubleshoot defects such as server issues and proactively understand where it touches business processes, identify roles involved, mission criticality, and identify the right triage to take against the impact of the defect.
Through the complementary solutions of ins-pi and ServiceNow, Lexmark's EA team established a link between the logical and the physical world by tapping into the Designer & UPM-X solutions to add a logical EA layer to their physical world in ServiceNow. Lexmark's successful journey is instructive of how EA should be part of an organization's DNA to articulate business strategy and technology in a common language understood across the organization.
Browse this collection of resources to get a broad picture of how Lexmark made this award-winning digital transformation journey happen and capture best practices that you can apply in your journey.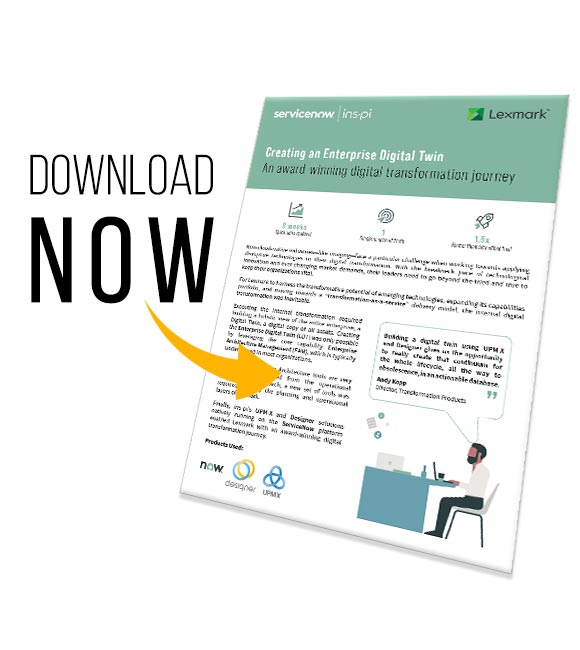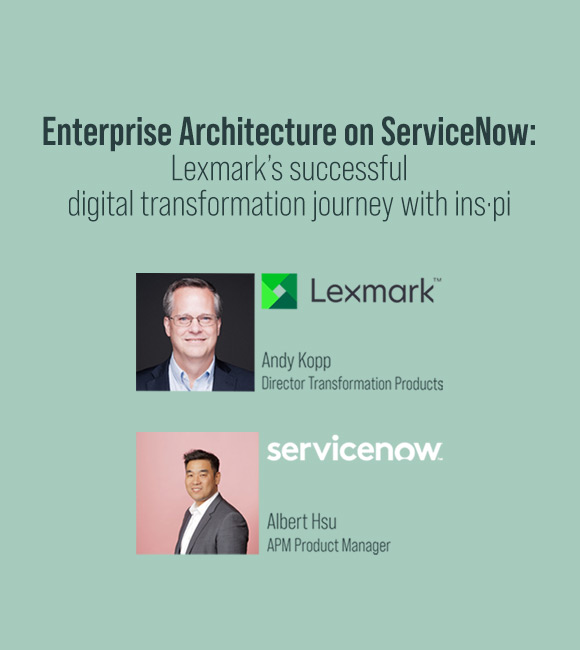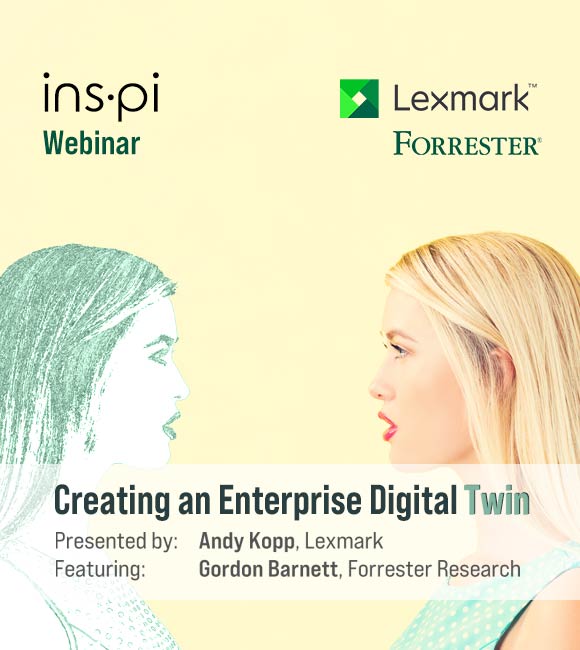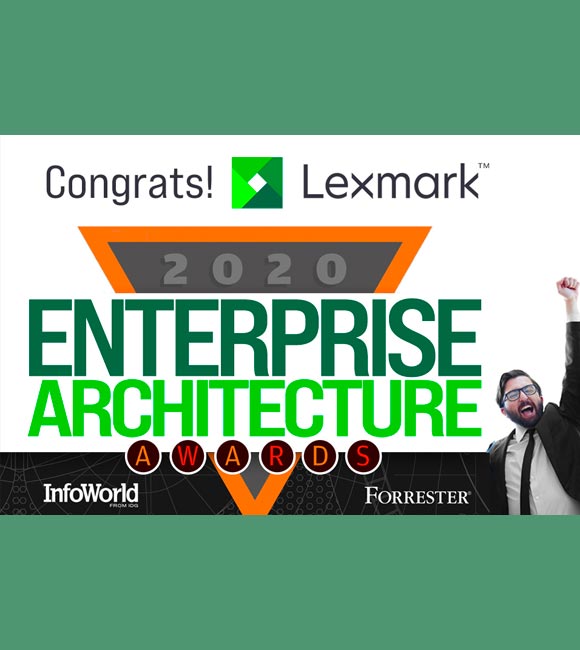 Lexmark's digital twin journey is proof of what organizations can gain from working with EA tools that empower them to merge the conceptual and operational reality. With the creation of an Enterprise Digital Twin, Lexmark was able to set the business directions to move with quality and speed at optimal cost from strategy down to operations.
Download the success story to see in detail how the enterprise architects at Lexmark built a living, breathing Enterprise Digital Twin that enabled them to realize these successes:
Within the first 8 weeks: generated a comprehensive set of images and definitions for its RFP that communicate the detail and complexity of the inputs, requirements, timelines, and expected outputs for Lexmark's Cloud MPS project.

Within the first 6 months: generated a living, breathing digital asset as part of the more extensive, iterative process to transform how Lexmark does business.

Recognition from the industry: Lexmark won the Forrester/InfoWorld Enterprise Architecture Awards in 2020.
An EA toolset providing real-time data is indispensable for enabling dynamic decision-making. Getting started on a digital transformation journey and maximizing EA capabilities without a good set of EA tools is a failure waiting to happen.
In the recently concluded Lexmark/ServiceNow Webcast, you will learn valuable insights about Lexmark's digital transformation journey through Andy Kopp. He also gives practical tips to start the journey and clarifies the importance of the Enterprise Digital Twin (EDT) to an organization aiming to improve business outcomes.
Albert Hsu of ServiceNow discusses in this online event how tools native to the ServiceNow platform, such as Designer and UPM-X, can help EAs embark on an impactful transformation.
As you get started with your organization's own EA journey, have you ever considered the impact of your transformation end-to-end on the full enterprise?
Gain a bird's eye-view of EA trends and best practices to help you rethink your EA discipline. Listen to Dr. Gordon Barnett of Forrester Research discuss what EA tools you need and the new capabilities necessary for digital transformation. You will also get practical guidance on the best practices to enable a successful EA journey from Andy Kopp of Lexmark.
Derive inspiration from Andy's retelling of Lexmark's journey and the lessons its EA team learned from it. You will also learn the nitty-gritty of the process of creating an Enterprise Digital Twin that the EAs at Lexmark use to support the business and architects in generating value and enabling positive business outcomes.
Watch the on-demand Webinar and have a deep-dive into how an Enterprise Digital Twin establishes the foundation for transformation.
The impressive results Lexmark achieved by applying the digital twin concept to their enterprise and establishing a digital thread to gain insights from is a compelling digital transformation journey that gained them industry recognition through the Forrester/InfoWorld EA award.
By providing the missing link between strategy and action, Lexmark's EA team played an impactful role across the organization. Their expanded capability from strategic and analytical to prescriptive and actionable was recognized and lauded in the industry.
Finally, the transformation the EA team went through had an overreaching positive impact across the organization. They've enabled the overall Lexmark vision for transformation-as-a-service, contributed significantly to cost reduction efforts, and ignited a wave of innovation by making data accessible and consumable.
Solutions that inspi'red Lexmark: