Resources for Success with Lexmark

Browse our collection of resources to get a broad picture of how Lexmark made its award-winning Digital Transformation journey happen and capture best practices you can apply in your own Enterprise Architecture journey.
Using two of ins-pi's solutions, UPM-X and Designer, Lexmark has already taken giant steps to offer a world-class "as-a-service" business model.
But they were not content to stop there.
Process digitization would allow them to automate, simplify, and optimize internal processes across the entire enterprise — and step into the future with speed and agility.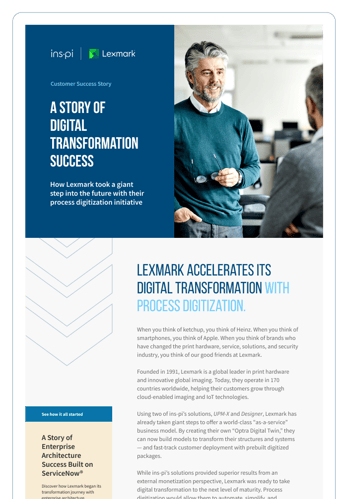 We teamed up with Lexmark for a 4-part webinar series, in which they share their Enterprise Architecture journey on ServiceNow with ins-pi.
Learn more about Lexmark's holistic approach to Digital Transformation, including topics such as:
how to deal with the overwhelming number of EA tools available,

navigating through the lack of EA standards,

how does an Enterprise Digital Twin (EDT) work – from idea to reality,

why keeping your Enterprise Architecture up to date is very crucial,

how to determine which areas of the Solution Architecture need additional levels of detail,

managing the quality of relationships between diagrams.
Lexmark's Digital Twin journey proves what organizations can gain from working with EA tools that can help them merge the conceptual and operational reality.
Download this paper to see how the enterprise architects at Lexmark built a living, breathing Enterprise Digital Twin that enabled them to realize:
Within the first 8 weeks: generated a comprehensive set of images and definitions for its RFP that communicate the detail and complexity of the inputs, requirements, timelines, and expected outputs.

Within the first 6 months: generated a living, breathing digital asset as part of the more extensive, iterative process to transform how Lexmark does business.
Download the Digital Twin Story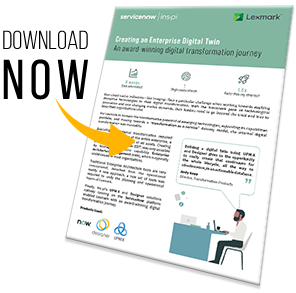 An EA toolset that provides real-time data is indispensable for enabling dynamic decision-making. Getting started on a Digital Transformation journey without a good set of EA tools is a failure waiting to happen.
In this webcast, Lexmark's Director of Transformation Products, Andy Kopp, offers practical tips to start the journey and clarifies the importance of the Enterprise Digital Twin to an organization aiming to improve business outcomes.
Andy is joined by Albert Hsu from ServiceNow, who discusses how tools native to the ServiceNow platform, such as Designer and UPM-X, can help Enterprise Architects embark on an impactful Digital Transformation.


Watch Webcast
Solutions that inspi're Lexmark: